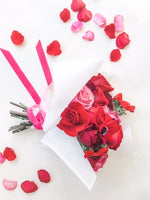 Célia's Valentines Favorites
However you choose to celebrate this year, we can all agree that we need a little cheer. As a restaurant family, it is rare for us to celebrate the holiday traditionally, on the actual day, but we always end up finding some time to celebrate the moment. I rounded up some of  our Valentine's essentials if you are in need of inspiration for yourself or a gift, and for making this holiday sweet and memorable.
 1.  A Set of Colored Tapers - these soft shades will make your table romantic and festive in no time. Pair with these ceramic holders that create various heights on the table and you will have an effortless and elegant setting for your celebration.
2.  Fresh Flowers - shop small and local is best right now with floral shops who need all the support. This bright medium sized hand-tied bouquet by House of Jeanne Flowers is available exclusively through Kinship for the holiday and includes three varieties of roses. 
3.  Champagne - we love half bottles! This Billecart-Salmon Rosé is perfect with fine, delicate beads and its red berry character.
4.  Four Star-Take Out - with many restaurants offering take-out right now, let the Chefs do the cooking so you can focus on each other. Our restaurant Kinship is offering a creative take-out menu that changes weekly, Wednesdays through Sundays. 
5.  A Keepsake Love Note - these cards are presented in fabric envelopes that can double up as a jewelry or travel accessories holder.
6.  An Upbeat Romantic Song - dancing is not cancelled. Whether by yourself in the kitchen or with your squeeze, kick off your heels and dance to this Gloria Gaynor classic.
7.  An Accoustic and Seductive Album - Carla Bruni's album French Touch offers a perfect blend of romance and rock n'roll with covers of classics such as Moon River, ABBA's The Winner Takes It All or The Rolling Stones' Miss You.
8. A Valentine's Gift Box -  a lovely assortment that will make the recipient instantly feel that life is sweet.
I hope this was helpful! Wishing you all a peaceful and delicious holiday. 
 xo,
Célia