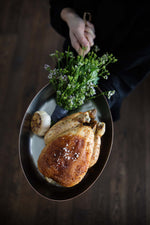 Secrets of a Chef: Trussing and Roasting a Perfect Chicken
Here you will learn all of the critical details to roasting the perfect chicken. From how to truss the chicken to how to roast it to cook evenly, this video from Chef Eric Ziebold will even show you how to carve it at the end. 
A perfect accompaniment for a roast chicken ? Pommes Frites or Sauteed Potatoes, with a crisp Salade Verte. 
Watch here!