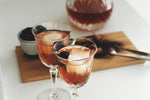 Smoked Cinnamon Rum Manhattan
Imagine sipping on this cocktail by the fireplace or looking out the window when the weather is cooling and leaves are turning all the beautiful shades of fall! The smoked cinnamon accents combined with the warm sweetness of the rum make it a perfect fall drink. While this cocktail can look intimidating - yes, fire - it is really quite easy to make so give it a try! 
Ingredients
1 cinnamon stick
2 oz. dark Jamaican rum (like Appleton or Smith & Cross)
1 oz. sweet vermouth
2 dashes Angostura bitters
1 cherry to garnish
Tools Needed
Cocktail mixing glass
Jigger
Bar spoon
Hawthorne strainer
Cedar smoking plank
Cinnamon stick
Blow torch
Cocktail glass
Directions
Using the blow torch, light the cinnamon stick ablaze on top of the cedar plank.
Extinguish the flame by covering it with an upside down cocktail glass
Let the smoke fill the glass while you mix the drink. 
In the mixing glass, pour the rum, vermouth, bitters, and enough ice to almost fill the glass. 
Stir 15 seconds with the bar spoon.
Strain into the smoke filled glass over a large ice cube and garnish with a cherry.
Cheers!