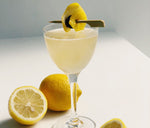 When Life Gives you Lemons
Citrus season is here! This cocktail, named La Ultima by the Kinship bartending team where it first made its debut, blends mezcal with the herbaceous spirit Green Chartreuse and the fruity liqueur Maraschino. The fresh squeezed lemon juice brightens it up. It's a play on the Last Word cocktail, but uses mezcal instead of gin. It's straightforward to make and delicious. Cheers!  
Ingredients 
1.5 ounces Mezcal
0.75 ounces Amaro Montenegro
0.5 ounces Luxardo Maraschino liqueur
0.25 ounces Green Chartreuse
0.75 ounces Lemon Juice
1 cherry, for garnish
1 lemon zest, for garnish
Directions
Shake all ingredients in a mixing glass with ice. Strain into a small coupe glass. Garnish with a cherry and lemon twist.